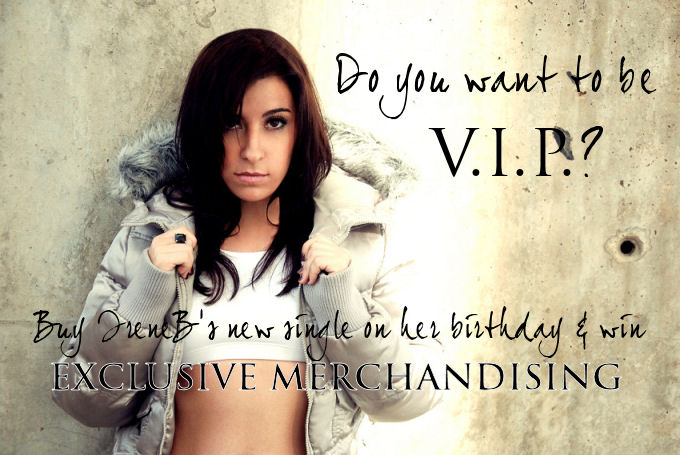 Tonight, at 6pm (ET) you will be able to see, for the first time, V.I.P.'s music video on IreneB's Official Youtube Channel. From tomorrow you will also be able to purchase her brand new single on the main digital outlets (Amazon, iTunes, etc.).
As if this wasn't enough, tomorrow is IreneB's birthday and we want to celebrate it with style, giving you the chance to take part in an international contest where you'll enter to win an exclusive merchandising package, including a promotional V.I.P. CD, amongst other cool stuff.

Who?
The contest is open to international entries. There will be 5 Spain residents winners & 5 international winners.
*Notice for minors (18 & younger): Make sure you have your parents' authorization to provide us with your physical address before you enter the contest, as we'll need it if you are one of the winners. Rama Music doesn't  assume any liability of questions of this matter.

How?
Just follow the instructions below:
– First, make sure you're following IreneB at her Official Facebook Page, clicking 'Like' & wish IreneB a happy birthday!
– Purchase V.I.P. on any of the digital outlets where is available (iTunes, Amazon, Spotify, etc.). Only FULL SINGLE PURCHASES will be accepted (Original Version + 2 Remixes).
– Send your purchase receipt or screenshot at contests@ireneb.com.
When?
The contest will be running from June 4th at 00:00AM (ET) to Sunday June 10th at 11:59PM (ET).
If you're one of the winners you will receive an email on the days after the contest is closed for you to provide us with your address to send you the package.
GOOD LUCK GUYS! &…HAPPY BIRTHDAY IRENEB!