Hey guyssss!
How are you? I just went to the doctor today and… what can I say? I survived! (I'm kinda squeamish in these situations. I will tell you what the doctor says, hopefully I will be ok, right?
Anyway, let's talk about something more interesting than doctors… are you guys eager to listen to my new record, "Welcome Back"? Weeell, I'm here to tell you that the record will be out on Tuesday September 25th on a wide variety of digital outlets (iTunes,  Amazon, Spotify, etc.). Besides, we will have physical copies as well, that you will be able to purchase from my official website or when you come see me at my live performances.
But that's not the best, because I gotta confess something… I can't wait for you to listen to the record! So… because I'm so excited about you guys listening to it I decided you guys are going to be able to listen to the album before its official release date, to be more specific, Tuesday September 18th at an online listening party. What do you guys think about that?
At this listening party you will be able to listen to the entire album and give your opinion about what should be the next single off "Welcome Back". That's not all though! Only for being there you will enter into a giveaway to win a signed "Welcome Back" CD… you don't want to miss this event, do you?
Of course, I invite you to share this event with your friends, the more people, the more fun will have!
You can RSVP here, remember I will see you on Tuesday September 18th at 8PM (ET) at my Official Facebok  or my USTREAM channel. This will be the only listening party in US time, so don't miss it!
Hasta entonces, y para abrir boca… aquí os dejo, ¡en exclusiva! La portada y tracklist de "Welcome Back":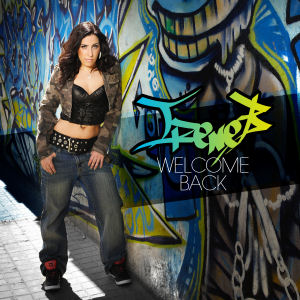 Digital Version:
1. Ride (feat. Rams Fax)
2. Don't Come Back
3. What Is Up With You?
4. V.I.P. (feat. Nate Walka)
5. Take It Slow
6. First Class Flight
7. Don't Think About It
8. Oh Baby
9. The Blame
10. Sober
11. Best Friends
12. You (Digital Bonustrack Only)
Physical Version:
12. V.I.P. (Nerdy Remix)
Love you indies, XOXO
IreneB