Hello, hello!
I know I've been M.I.A. for over a month, but don't believe I haven't been working… been writing some new music, as well as getting ready for my third single's release… It's taking a little longer than expected but it will be worth it, since it will come with a very funny video!!
As far as the rest of my life, I've been working on my health and my diet, doing great! I'm getting closer and closer to my healthy weight, I wonder if any of you is interested in me telling you what I did, I know it has nothing to do with music, but you know artists have to be in shape, right?
And talking about artists, I know there are a lot of artists around, so just in case you don't know about it I am personally inviting you to visit my official Youtube Channel, where you can see my section "Diary Of An Indie Artist", with tricks about the music business. You didn't know about this? Well, what are you waiting for? Take a look!
Finally (I know this blog is pretty short, but the Summer is here! Gotta enjoy the good weather!), just telling you about a nice suprise I had last week… Do you remember my song "Dedicated", from my first album? Well, a couple of weeks ago got to be #1 at the WorldTalentsRadio top 10! Can you believe that, after 4 years of its release? LOL! Here's the proof!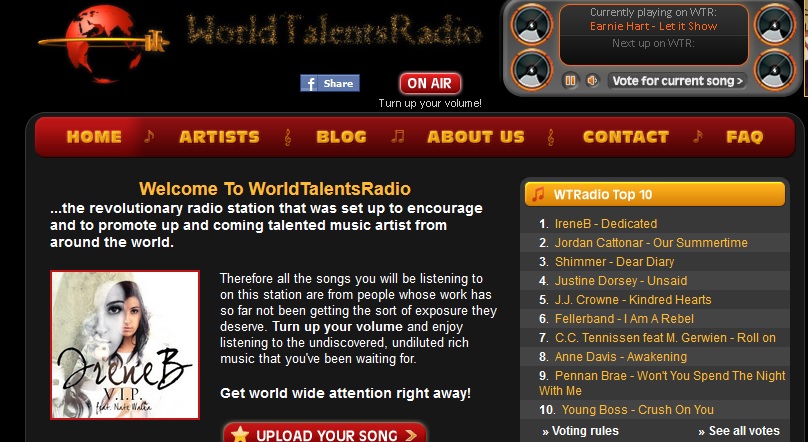 And… this is my July newsletter folks.. See you in August? Or maybe before… Who knows… 
XOXO,
IreneB