Hello!!
It's been a long time since I kept you informed about what's going on in my world…  I know… The truth's I've been pretty busy these last months… so today… no excuses! Here ya go…
First things first, guess who has a birthday next week… yep, I'm getting old… I look pretty good for my age though, right?
A couple of weeks back I came back to the studio and was recording a couple of new songs, however, I've been sick and got bronquitis, so I gotta get better before I do this again

Here's a selfie I took one of the days of recording: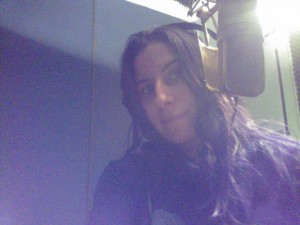 On the other hand, we keep on looking for gigs this summer! Music scene in Spain ain't easy, so we're having a hard time to get paid to play (and not the other way around…pretty sad kids!! what's going on?). I will probably be hitting the Florida sun on July, so if you're interested in booking me… don't hesitate to contact my management at management@ireneb.com.
And… yeah… This is all for today folks! At least you know I'm alive… Please, keep on listening to "Welcome Back", while I keep on working on more music. And if you feel generous enough… buy the record... you will make a birthday girl happy
XOXO,
IreneB